Once a fan, always a fan and nobody beats a fan.
Don't you dare underestimate the power of a fan for he or she can do even the extreme and unusual things and I can testify to this. 🙂
October 22-24, 2012– 3 Days of Epic Fangirling
Day 1: Sugod sa Airport! Tambay sa Hotel!
It was already late when I and my VIP friends were informed that Big Bang will arrive in Manila last Monday. We thought that they will be here on Tuesday night or Wednesday morning. So, basically, we were not prepared. Still, we decided to go to the airport to see them.
In the airport, we immediately saw die-hard fans who were mostly students and teenagers. Some of them were even wearing their school uniforms, holding Big Bang banners, and others were screaming every time a car passes by.
It was around 5 pm when Big Bang went out of the airport. All VIPs used their strength and focused  just to get a glance on the Big Bang members since they were already inside their cars. The whole incident was fast. I was only able to see Daesung and Taeyang. Khar saw only the top/head of Daesung. Kimpee saw no one. The luckiest among us were Jane and Jinky who were able to see TOP up-close.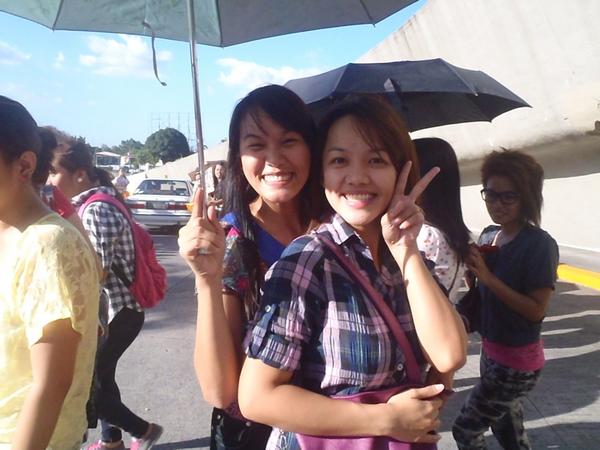 Our fangirling at the airport did not succeed. 😦 Hence, we decided to follow Big Bang. There have been rumors in Twitter that the group would stay in Midas Hotel so we went there.
We quickly got a cab and asked Manong to drive as fast as he can. When we arrived at Midas Hotel, Bigbang was nowhere to be found. Some VIPs were also there but they eventually left when they found out that Big Bang was staying in Edsa Shang. We did not believe though.  We asked the guards and tried to get information from them. They told us that Big Bang will arrive in the evening. Believing them, we stayed at Midas Hotel.
Since there were still no signs of Big Bang, we decided to eat at Ministop.
While we were eating and chatting, we noticed a girl, who Kimpee suspected is working at Midas Hotel. The girl was so "aligaga" because she kept on walking and walking. When she went outside, Jane followed her and asked her about the whereabouts (parang missing persons lang, eh noh?!) of Big Bang. The girl told us that Big Bang will arrive at the hotel but it will be very late in the evening. We believed her since she said to us that she was the one who wrote the names of Big Bang in their guest list. So, instead of going home, we went back to Midas Hotel.
We spent the whole evening at Midas Hotel waiting, waiting, and waiting.
We waited until 9 in the evening. But no G.D, Taeyang, Seungri, Daesung, or TOP arrived in the hotel. 😦
Epic Fail!